Reading time
7
minutes
It is December 2019 and, before the Earth completes its orbit around the Sun, in Magazine AM:PM we have decided to look at the most important musical events of the year. Here are the events that put Cuban music on and off the island, from changes and renovations in the industry to concerts, live shows, and festivals that caught us.
But attention: every list goes through the subjectivity of who conceives it. Our editors, this time, have spoken. However, they don't have the last word. You, hardened music lovers, can also share your favorites with us.
For now, read these ten moments. Who knows what will bring us, in terms of music, 2020.
The international boom internacional de Cimafunk
Just over a year, it took Erick Alejandro Iglesias Rodríguez to enchant his talent and charisma, first Cuba, and then half the world. The 2019 began with the recommendation of Cimafunk, by Billboard, como uno de esos artistas que deberíamos escuchar. Lo que vino después fue apoteósico para el artista y su banda. El llamado «James Brown cubano» no solo giró por varias ciudades de Estados Unidos y Europa, sino que conquistó al público de Nueva York en un concierto gratuito en el Summer Stage del Central Park; fue además portada de El País Semanal, it came to share the stage with Alejandro Sanz in the famous Madison Square Garden, and has become a regular on the posters of international alternative music festivals.
Repair, renovation, and creation of dance music spaces
This year the last stage of the capital repair was completed in the Salón Rosado of La Tropical Benny Moré. The rehabilitation of audio cabins, bathrooms, kitchens, mezzanine, bars; The opening of a new hall adjacent to the stage, where musicians are waiting for its presentation, are just some of the new features exhibited in what is usually called the "Most Musical Hall in Latin America." On the other hand, it has been remarkable, according to the massive and periodic influx of the public, the recovery of a dance space in the open air like La Piragua of the Havana seawall, which this summer hosted several groups during several weekends danceable; as well as the repair, still in process, of the Tribuna Antimperialista. And if it is danceable spaces, news that was also expected was the reopening of La Casa de la Música de Galiano and a new installation in the municipality of Cerro, the latter conceptualized as a Cultural Center with multiple facilities and offers, as well as its predecessor in the neighborhood of La Timba.
One hundred concerts of the Endless Tour of Silvio Rodríguez in the neighborhoods
In the last decade, Silvio Rodríguez Domínguez, the most international of Cuban troubadours (along with Pablo Milanés), has turned to a work of messianic and beautiful love: the Endless Tour. With an unprecedented record, Silvio has dragged the members of his band, his production team and a large and varied number of artists through the neighborhoods of Havana and a few provinces; bringing the sensitivity of the song to live where so many people live that they don't have much chance of reaching a theater. The project has served, in turn, to remind many people that there is an invisible Cuba that urgently needs to appear on the map of the country's development policies.
The second edition of the Josone Varadero Rumba, Jazz & Son Festival
After a discreet first edition in 2018, the Josone Varadero Rumba, Jazz & Son Festival returned in August this year to clear up doubts: a music festival of this magnitude can be made in Cuba, and it can be done this way. good. The musical poster and the quality of the concerts of the 26 bands that were presented during four nights on two stages were, without a doubt, the highlight of an event where production, sound, stage design, communication and programming in general, they scratched the impeccable. We applaud then and today we include in this list this Festival directed by Issac Delgado, with good health wishes for 2020.
Reopening and creation of recording studios
The Company of Recordings and Musical Editions (Egrem), as part of its project to recover Areíto Studios, reopened Study 102 in the Centro Habana municipality. With arrangements primarily in the cabin section, space now has a new floor, in addition to a modern audio console, type SSL (Solid State Logic). On the other hand, in the city of Camagüey, this company opened a new study baptized under the name of Caonao, with a view to the validation of its technology and official inauguration in February next year. Producciones Abdala also reopened its doors after more than a year of capital repair that tries to return the splendor and exquisiteness to these studies since its foundation in 1998.
Habana Abierta in Gibara
Several reasons led us to bet on this moment on our list. First, that the musicians who formed Habana Abierta - many of them with solo projects - barely join together to offer concerts under that mythical name, and the Gibara International Film Festival was the stage chosen to give us back how rich a rock sounds and roll with timba; second, that the band had not performed in Cuba since 2012; third because in that Gibara concert three generations danced, chanted and sweated to the rhythm of that legend that is today the group for many Cubans. Finally, and the most important reason, Habana Abierta sounded in Gibara as the band we still hear, almost daily, in Boomerang or 24 horas, and everyone who was there felt it.
Inside, the return of X Alfonso
For almost eight years X Alfonso did not release music; However, September 2019 arrived with new airs and many flutters. , a kind of work in progress album that we have already enjoyed four songs, has been the best gift that the Cuban multiinstrumentalist has given to his followers. Reflective and provocative lyrics, more electronic and experimental sounds, come with this future album that is already giving much to talk about. During these months we have seen a butterfly flutter through the city: X Alfonso is back. Albricias for all!
A notable increase in the visibility of Cuban artists in NPR Music
It is not that Cuban artists were absent on NPR Music, but before passing through the platform it happened erratically. And if something needs a creator is visibility to promote their work, which has been practically forbidden to Cuban creators in the North American market. This year, artists such as Cimafunk, Haydée Milanés, Síntesis, Roberto Fonseca, Aymée Nuviola, Daymé Arocena, and X Alfonso have had a frequent presence in conversations about contemporary Latin music, which has contributed to restoring the face of Cuban music in the United States and the world in general. We expect this trend to continue in the coming years.
Successful premiere of the operas La clemenza di Tito and La fille du regiment
It is not usual for opera in Cuba to live in the same solar cycle two events of this magnitude. That is why we find the premiere, in a year, of two operas with paths set in scenes that were highly applauded by the public and critics very remarkable. One, La clemenza di Tito, from Mozart, with the Symphony Orchestra of the Mozartian Lyceum of Havana and directed by maestro José Antonio Méndez along with a cast of luxury singers —bajo la dirección general de Ulises Hernández, con la revisión dramatúrgica del libreto original a cargo de Norge Espinosa, la puesta en escena de Carlos Díaz y el diseño de vestuario de Celia Ledón entre lo más destacado. La otra, La fille du regiment, by Donizzetti, directed by Luis Ernesto Doñas, this time with the Orchestra of the Great Theater of Havana Alicia Alonso and Johana Simón in the central role, and with a good concept of production and a remarkable characterization of characters. Both leave a high bar in what could be the beginning of the rebound of the genre in our country.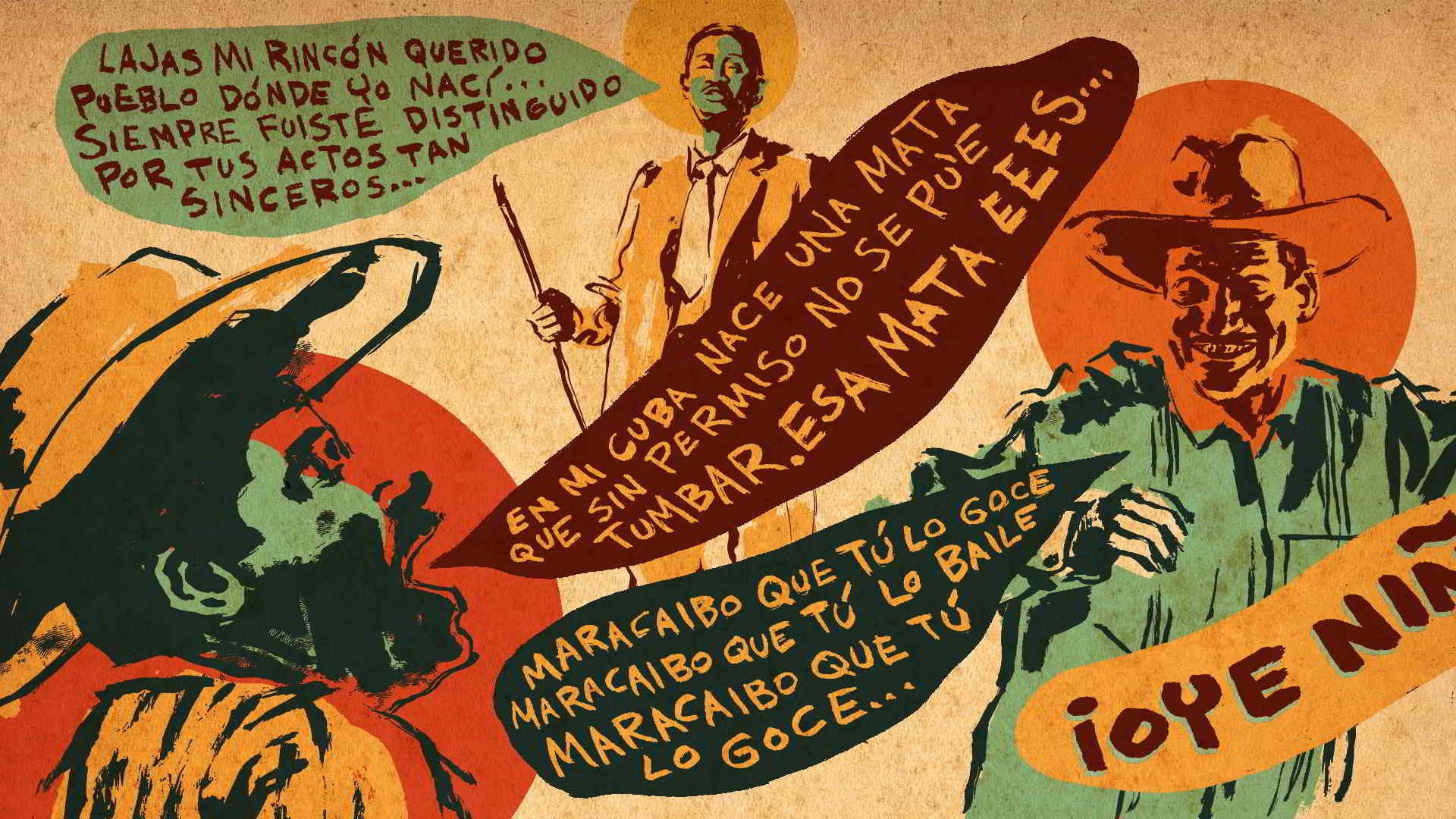 Day of celebrations for the Centenary of Benny Moré
The 2019 marked the centenary of the birth of who is probably the most important and transcendent popular musician of the many that Cuba has given. Although we would have liked to see much more, organized more coherently and with greater scope, this year was undoubtedly signed by El Bárbaro del Ritmo. There was everything: exhibitions, editions of books and records, workshops and tributes, special concerts —- organized by the Uneac, the Egrem, the ICM and the Ministry of Culture -—until the declaration of his grave as a National Monument by the National Commission of Monuments. Also, we highlight the call for remixes to DJs from around the world, by Guámpara Music and the many other individuals, collective or alternative actions of music lovers and scholars inside and outside Cuba. From Magazine AM:PM we dedicate the cover and back cover of our number 3, with beautiful illustrations by the artist Giselle Monzón and the inclusion in that same delivery of an article about her presence in Medellín and a lovely cartoon.