By Vivi Alfonsín and Juanjo Berdullas
El Jamboree es una cueva oscura, un club de jazz varios metros por debajo del nivel del suelo en la Plaza del Real, en Barcelona. También es un bastión donde la música en directo resiste a diario, una parada obligatoria para cualquier viajero, un anhelo para los músicos que viven y pasan por la ciudad, un sótano de alcurnia donde han tocado primeras figuras: Baker, Fitzgerald, Montoliu. Es, además, un ejercicio permanente de meter lo grande en lo pequeño, de explorar y acoger las variantes que tienen al jazz como eje. Y allí en el Jamboree, en el marco del Festival Grec, la cava de la Plaza Real recibió hace un par de semanas cuatro dobles sesiones inmensas de la música de Dayramir González, el pianista, compositor y arreglista cubano afincado en Nueva York.
Punctual, eared, smiling, starts from the back of the room, where the sound is controlled and there is a gap for the few souls who prefer to remain standing. He greets and presents himself without stepping on the stage yet, with the modesty of the one who goes to his work. Dayramir is a showman, it will not cost much to win people. You will have already been warned that part of the public does not speak Spanish and that is why it is also presented in English. Silence is barely broken by laughter, by a minimum murmur. He says he wanted to return to this city, but not as a tourist, but as a musician to expose his inquiries, his sleeplessness, his studies, his achievements. He already walked through these places with Bebo and Chucho Valdés, with Diego El Cigala.
In this music, especially in the round trip, such as jazz, it is convenient to clarify the terms. González made it clear from the beginning when he enrolled in the tradition of "Afro-Cuban jazz", of jazz made in Cuba or Cuban music made through jazz, which López-Nussa would say with exquisite precision, but, the stereotype of head, you have to open your eyes, pay attention. From Cuba came rhythmic influences, directly to Congo Square, which determined the paths of the proto-jazz, and the triplet (Havana) was, as Marsalis insists, a key element in the formation of jazz, in the syncopation and the key to New Orleans. Cuban music and Cuban musicians decisively influenced revolutionary transits, such as that of bebop to the hard bop, which gave rise to that jazz schism that left the swing on the West Coast and the hardest pace on the East Coast, from where Monk, Horace Silver and Blakey, anticipated, or materialized, the rhythms that would one day become electronic. When Dizzie was looking for new roads, in some of them he met with Cuban percussion and with the Guajeos (those ostinates Afro-Cubans), that repetition to return to, to cling to, with which he composed hand in hand with Chano Pozo. As there was bebop and hard bop, there was cubop.
The first theme of the night was composed with 16 years. He lowers his head to the keyboard like a blind man, as if that closeness allowed him to hear some secret of the piano. Transition It is a summary of his entire career and evolution in no more than twelve minutes. He considers it a main song that grows and varies with him. It concentrates and claims its classical formation, respect for the Cuban musical tradition in all its variety, and that tendency to hard bop materialized in the sounds of tonight: a third of piano, percussion and electronics, a hard and accelerated battery and the electric bass that contributes to the slowness of the explosion, to the beauty of the progression that when it is about to overflow, returns To be restrained
The cave has already become small, and it doesn't take even twenty minutes. Throughout the night the impression will last that Jamboree and Dayramir have something in common, that taste or that need to "put Havana in Guanabacoa", to adapt the ambitious proposal of the album to the musical format of these four nights. We cannot help imagining how it would be heard with the acoustics of a large site. From Carnegie Hall, for example. And we are looking forward to listening to the album at home, to savor the full themes and the way he has put ten years of influences on The Grand Concourse, a reference to the rhythmic melting pot of the Bronx, which formed the core of his performances, indirect wink to his hometown of El Cerro, in Havana. Those neighborhoods of which one feels proud of being, having left and returning.
Now he will play Moving forward, the anthem of a persecutor, a song to the fight, to the work, to the perseverance. At some point he stops the piano and makes the melody stand above the silence, as if the music had inertia. But it is not over, we begin to get used to something that will last all night: the pleasure of that dispersion and collection procedure. It always seems that the good is going to end, but no. It makes us clap, it makes palms accompany the piano. There are a couple of kids in front row, we think they are music students. They are betrayed by the sheathed instruments they carry, the shyness with which they attend to the evolution of sounds, the reverential respect of their gaze. The public is from everywhere, we cross words of surprise in different languages. We look at each other, open our eyes, smile.
His hand pays tribute to Saumell, Cervantes, Lecuona, through Simplicity, a wonderful danzon. Dayramir González slows a tumbao Tasty and elegant with the piano, someone from the audience tries a dance in the back, but stops when Dean Torrey's rocker punches in the middle of the danzon and this gives way to Juan Chiavassa's drum solo. Meanwhile, Dayramir sings, makes us sing, marks a step. It seems that the danzon has mutated into an ungovernable hydra, but no, the pianist buckles the subject with his own beginning; It leaves us speechless, laughing, happy, it just made us an old magic trick.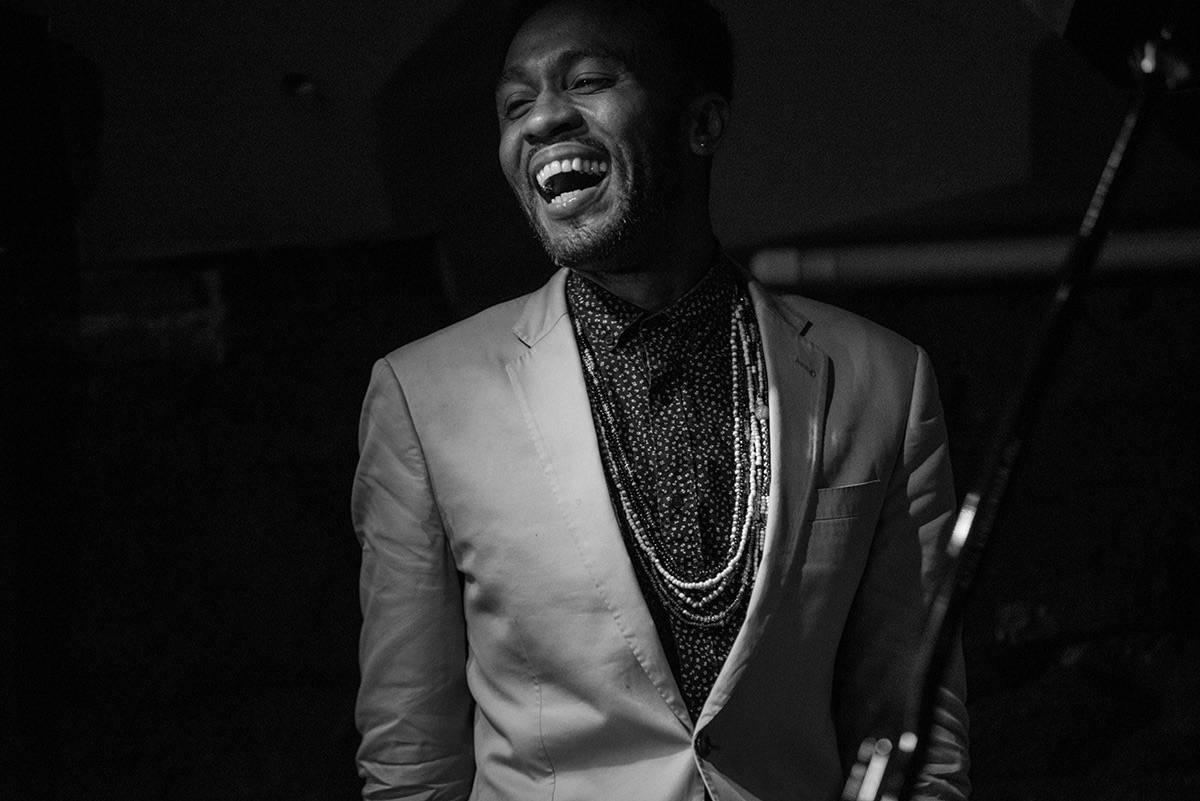 It would be said that the smile is part of the permanent gesture of Dayramir González, but not to interpret SmilingAt least not in this case. The original theme was conceived for string quartet, choir, percussion, electric bass, guitar, alto and tenor saxophone, flute, trumpet and now it is proposed to assume only with the piano everything that did not fit on the Jamboree stage. Anyone would say that that cannot be done, but he can, although the voices of amazement rise so much since they must reach the stage.
At some point in the night he invites Cuban trumpeter Carlos Sarduy, childhood friend, fellow student. They drop us a hypnotic and accomplice Kiss Me a lot, that starts exclamations among the crowd, some kisses, some tears. Sarduy stayed until the end with the congas. Another day, the cameo will be produced with a female voice, that of Marina Tuset who will sing Cómo fue, honoring Benny Moré.
And braided with music are his humility, his smile, his roots. And his mother, his father, his neighborhood, the Cuban music school where he is grateful to have been trained are with him. Dayramir González is already standing, thanking the applause with Carlos Sarduy, Dean Torrey and Juan Chiavassa. The public also gets up and Dayramir, while going down the three steps that distinguish the stage of the seats, with the modesty of who finishes a work shift, asks the two music students: ""What, guys, did you like it?"